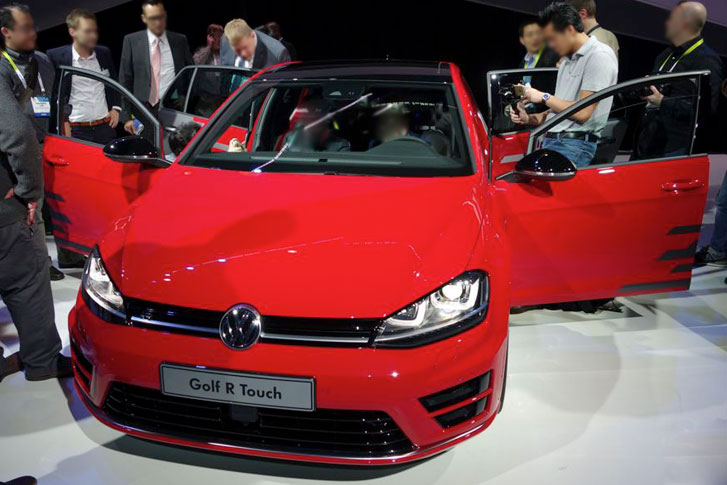 Volkswagen Golf R Touch unveiled in Las Vegas
Volkswagen has revealed a new 292bhp version of Golf R Touch at the Consumer Electronics Show Las Vegas. Volkswagen has showcased a dashboard of the future in the new Golf R Touch. It is a production-based concept which shows ideas of Volkswagen's design team. They are currently pursuing the future dashboard architecture for Volkswagen models. Golf is one of the best-selling hatches of Volkswagen and they have achieved the milestone of top sales in 2014.
The new design programme is intended to dispense with traditional controls to joyful operating experience that offer futuristic features of modern electronics as used in smartphones and tablets.
All new Golf R Touch has three display units set within the standard Golf R's Dashboard and it is powered by a 2.0 litre four-cylinder Volkswagen engine.
It will give safe and more intuitive controls along with the wide range of customizations and added personalisation through a range of colours and graphics. It offers a 12.8-inch high-resolution touchscreen mounted in the upper part of the central console to facilitate multimedia controls.
Underneath the 12.8-inch screen, it has 8.0-inch display with haptic feedback to control vehicle settings, air conditioning and ancillary functions of the vehicle.
Volkswagen's new display is the same as the one offered in new Passat as an option, but it is standard in Golf R. A further best part is a nod control unit that uses a 3D camera attached to the roof covering.
Digital controls for sunroof appear on the main 12.8-inch display touching the roof lining. The Golf R Touch has an all-encompassing choice of displays and colour schemes. A welcome appears when it is opened and started, however a shutdown appears when you switch off the car.
The following two tabs change content below.