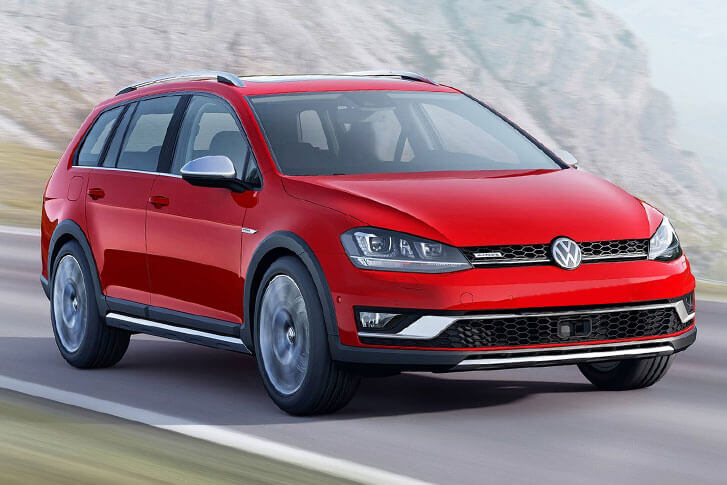 The seventh generation of Volkswagen Golf line-up and second addition of Alltrack will meet you on Paris Motor Show 2014
The seventh generation of Volkswagen Golf is already gearing up to visit UK and has started its journey from its home in Germany. The Golf Alltrack is on its way to Paris for its first public appearance. It has a rugged styling and high riding features. It is expected that the Golf Alltrack will reach UK by mid of 2015 and you will be able to own one from around £23,000. It was revealed here for the first time just ahead of its public debut at Paris Motor Show next week.
It is expected that the new Alltrack line-up will soon replace the first generation of Tiguan line-up with an aim to offer an off-road capability to its buyers.
Volkswagen engine division says that they have developed three turbocharged four-cylinder engines for the new Golf Alltrack engine line-up. It consists of one direct injection petrol and two common rail diesel engines and all these three variants will be mated to 4Motion technology that features all-wheel drive and electronic front differential lock system as standard.
The only petrol engine is capable of generating 177bhp of power and 206lb-ft of torque from a displacement of 1800cm3. This 1.8 Litre TSI can push the Alltrack from zero to 62 miles per hour in just 7.8 seconds. The top speed is claimed at 135 mph and fuel economy of 41.5 mpg with a relatively high carbon emissions of 158g/km.
On the other hand, much familiar Golf diesel engines, 1.6 Litre TDI produces 108bhp of power and 184lb-ft of torque while the other one, 2.0 Litre TDI develops 148bhp of power and 251lb-ft of torque.
Golf 1.6 Litre TDI engine gives the oomph to the Alltrack and pushes it to 62 mph in 12.1 seconds and keep pushing till it reaches the top speed of 116mph. Don't worry about fuel consumption because it has class leading fuel economy of 60.1 mpg on average, so keep pushing the throttle. A bit tight figures of carbon emissions found on this engine which are claimed at 124g/km. 2.0 Litre TDI has 0-62 mph sprint time of 8.2 seconds and top speed of 129mph while fuel economy is claimed at 57.7 mpg with the CO2 emissions of 127g/km.
It's up to you now to have anyone of these superb vehicles in your driveway and enjoy the comfort on long journeys and peace of mind on re-fuelling.
The following two tabs change content below.