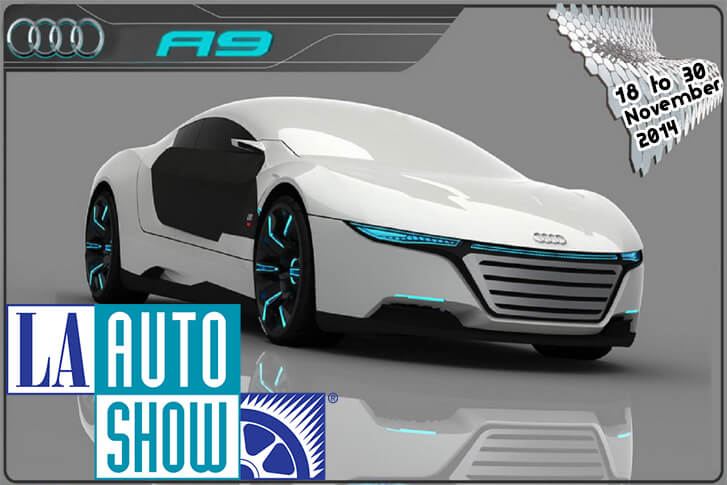 LA Motor Show opens its doors to the world on 18th of November 2014, where a range topping Audi concept, high performance BMWs and many others are present to serve the event
The LA Motor Show is an annual Auto Show held in Los Angeles, the most populous city of United States. The Los Angeles Auto Show is an OICA approved exhibition of automobiles where almost all major automakers from the entire world participate with their new models and concepts. This year, there are several new entries expected to unveil. A range toping Audi concept will make its first public appearance, and you will also be seeing two high performance SUVs from BMW and a very powerful Porsche 911 Carrera. This is not the end of the show, there are lots and lots to come at Los Angeles Convention Centre from 18th of November onwards.  Here are some hot arrivals at LA Motor Show 2014.
Audi A9
It is expected to be announced as Audi's range topping model, the pictures of which have not been published yet. However, Audi has selected the LA Motor Show to preview its future design of the high tech Audi A9. It is scheduled to launch in 2017, in the future there are two more models to come.
Audi R8 Competition:
A race inspired version of the R8 claims to be the fastest ever R8 offered by Audi that can reach 60mph in 3.2 seconds and a top notch of 199 miles per hour. It is an inspiration of R8 LMS racing car but features greater aerodynamic and splendid body work.
BMW X5 M and X6 M
BMW is coming to LA Motor Show with its power division M-Performance. BMW X5 M and X6 M is coming to UK next year, but they will make their public debut at LA Motor Show this year.
Mazda CX-3
Japanese automaker Mazda has already confirmed that its new CX-3 will be introduced in UK in April next year. It is set to take on Nissan Juke like SUV models. It features a KODO design language and powered by a Mazda SkyActiv engine range
Mercedes-Benz S-Class Maybach
Mercedes-Benz S-class Maybach returns to LA Motor Show and it is confirmed by Mercedes-Benz design head Gordon Wagener. Two more Mercedes-Benz models are planned to make their debut at the LA show.
The following two tabs change content below.