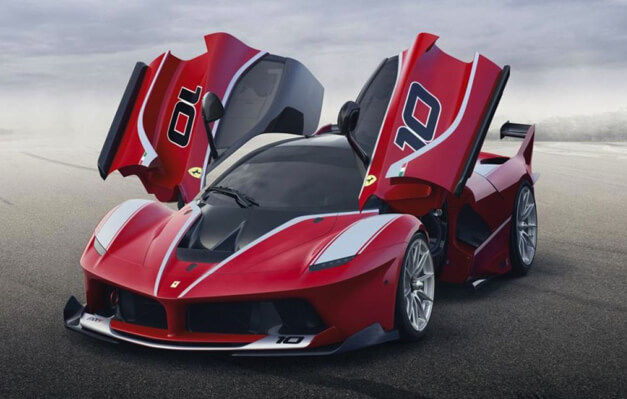 Loo and Behold an ultra fast La Ferrari FXX K will be launched next year
Ferrari have unveiled the track version of its ultra hot LaFerrari and dubbed it as FXX K. It is a harder, track-focused version of LaFerrari with more power, race-inspired styling and even more tech. The main figures are a power output of 1021bhp and it'll be launched next year, although it will only be available to an elite group of owner-drivers who will be entered into Ferrari's XX driver development programme.
The FXX K name is driven from the car's KERS kinetic energy recovery system, which works in conjunction with the standard car's 6.3-litre naturally aspirated V12 engine to produce a total system output of 1021bhp and more than 664lb ft of torque. That's 71bhp more than the standard LaFerrari, with 835bhp coming from the V12 engine and 188bhp from the electric motor.
The new FXX K will improve on LaFerrari's 0-62mph sprint time of less than three seconds, as well as its 217mph-plus top speed. The FXX K sits on special slick Pirelli P-Zero tyres, which have built-in sensors to measure acceleration, temperature and pressure. Carbon-ceramic brakes, manufactured by Brembo, also feature. The car's traction control, Side Slip Angle Control and electronic differential have been specially designed to suit the performance rubber while drivers can control ABS settings via the steering wheel. The car's exhaust system has also been modified.
In a statement, Ferrari said the car was developed "to be completely uncompromising, incorporating technological innovations that will guarantee an unprecedented driving experience". It will go on sale next summer and is powered by a 986bhp 3.8-litre twin-turbocharged V8 engine working as part of a hybrid powertrain. The P1 GTR will only be offered to existing P1 owners at a cost of £1.98 million. The price will be significantly more from the standard car's £1.15 million price tag.
It's also likely that only existing LaFerrari owners will be eligible to buy the FXX K.
The following two tabs change content below.