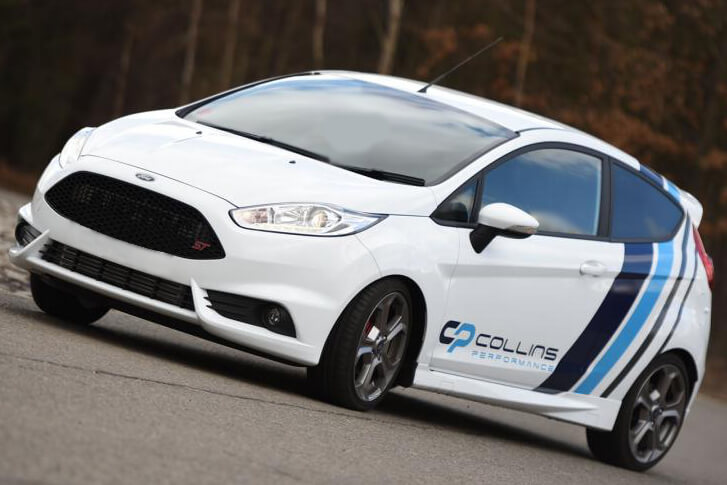 Collins performance pack gives the Fiesta ST engine 270bhp with 265lb-ft but will the Fiesta remain a favourite
Ford Fiesta ST is a speed enthusiast dream already but now it has been transformed with Collins Performance pack ST3 CP3. For the 2015 Ford Fiesta engines, Collins performance pack offers 270bhp of power and 265lb-ft of torque.
The performance pack has a new Mongoose exhaust, Airtec intercooler, CPE Turbocharger, ITG induction system and revised ECU mapping. The Cost of this package is very huge; a full package has a price of £2,965. This price includes fitting costs and a discount if you keep your old turbocharger.
The Dynamic chassis has also been upgraded and ST's standard wishbone has been swapped with the new dynamic chassis. The rear beam bushes have also been changed to stiffer ones, but it costs a further £440. The latest Fiesta ST3 CP3 is a bit quicker than the older version; it reaches the 0-62 mph mark 1.4 seconds quicker than the standard version.
With the traction control switched off, it takes 5.9 seconds to reach 0-62 miles per hour. These performance figures are very close to the basic Porsche Boxter. The CP3 chassis has a snappier back than usual, but if anything the front shape has lost it look with the dynamic chassis.
With a the minute to the minute analysis of the performance figures, it is still very hard to judge whether spending £5000 extra on Fiesta is necessary? Ultimately, the CP3 will make some difference but is it worth it? What is your opinion on the new package?
The following two tabs change content below.