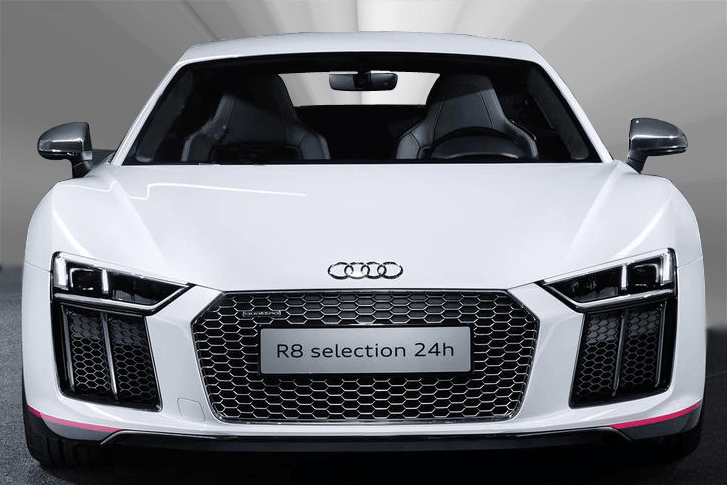 While in the UK, you can buy an Audi R8 V10 Plus Selection 24h special edition with Audi v10 engine and only 24 to be built
Audi R8 V10 Plus selection special edition has been introduced in the UK and automakers has whispered that only 24 lucky drivers will get their hands on the model. Audi has blown motorsport triumph with the R8 V10 models in the past and the new Audi R8 V10 Plus Selection 24h will help the automaker to continue the success story.
Why a special sports model?
Audi has revealed that the special sports edition of the R8 V10 Plus Selection 24h to celebrate the success of its motorsport at the most famous Nurburgring 24 Hours race. It called the selection 24h special edition to pay the tribute to the R8 LMS. It has won around 323 races since 2009.
The R8 V10 engines
The special edition will be limited in the number of units and there will be only 24 models. All these models will be powered by 5.2-litre naturally aspirated V10, same Audi engines used in the standard R8 V10.
It is a very powerful engine that develops 602bhp from its ten cylinders. It takes only 3.2 seconds to reach the 62 miles per hour on the odometer. It has a top speed of 205 miles per hour.
Technologies and features
As a standard, the all new 24h special edition comes with dynamic steering system, adaptive dampers and laser lighting system. A unique paint finish makes the special edition more elegant and almost replicates the LMS version of the R8. The Audi R8 V10 Plus Selection 24h special edition starts from £180,448 in Germany but it is not confirmed that if it will be offered in the UK.
The following two tabs change content below.