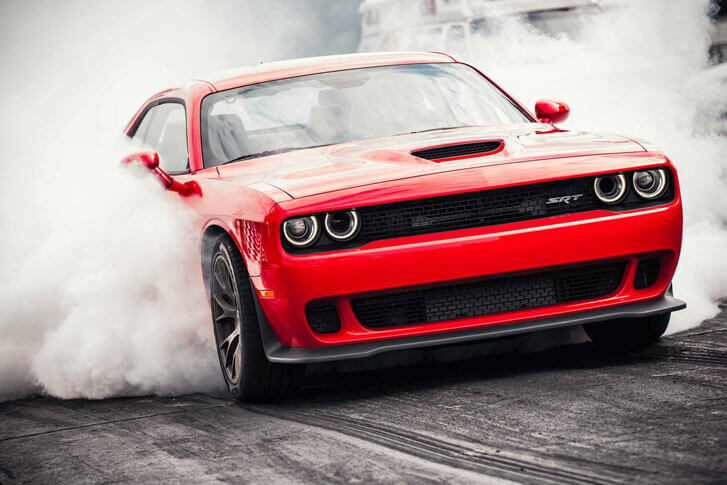 A supercharged V8 Hellcat engine of 707bhp makes the Challenger SRT a raging beast
The all new Dodge Challenger SRT is powered by the Hellcat engine that makes it a real beast on the road. It is a 6.2 Litre V8 engine that can generate the muscular power of more than 700 horses. The all new Challenger is the fabulous model for Chrysler Motors. It is a muscular model that can give the strong competition to Mustang and the Camero.
The Challenger was first introduced in 1969 and the third generation of Challenger was introduced by Dodge in 2008. They also introduced a two door Coupe version as a small version of Chrysler's LX Architecture.  The closest competitor Ford Mustang is even shorter and lighter than the present Challenger.
The all new supercharged 6.2 Litre V8 engine cranks out 707bhp of power and a mountainous torque of 650 lb-ft. It is equipped with a six speed manual gearbox as standardbut an optional automatic transmission is also available.
Dodge Challenger is such a wild car that its Hellcat engine gulps 15.4 gallons of fuel in only thirteen minutes. Its powerful supercharger pushes the air into eight cylinders through a 92mm throttle body and offers 79bhp of additional power.
Every Hellcat engine runs on a dyno for 42 minutes to make sure the quality and performance features before installing it into the Challenger. It would be a really foolish thing to ask about the carbon emissions of this beastly V8 because Chrysler really don't cares about. It is all about the balance of power, and you have to sacrifice one thing, a part of power or cleanliness. When you thumb the start button on the console and hear the roar of that monstrous 707bhp V8 that erupts into a rage of fury, you will forget every other factor including carbon emissions and  become speed frenzy at once.
The following two tabs change content below.